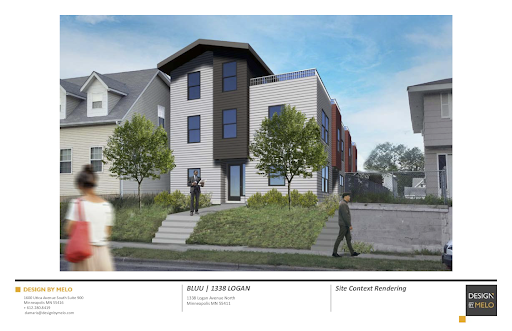 This rendering is from BLUU's amazing architect, Damaris Hollingsworth. Hollingsworth is an Afro-Brazilian architect who leads her firm, Design by Melo. We are hoping to break ground on this site in the spring of 2023!
This summer, we were awarded $833,000 by Minneapolis Homes, a program of the City of Minneapolis. This financing will partially support construction for a 3-unit house for the BLUU Housing Initiative. Minneapolis Homes has never accepted a project like ours, and they are working with us to address challenges and unknowns as we continue the Housing Initiative. We're grateful for their dedication to the City of Minneapolis and to ending racial disparities in housing.
Because of this funding, we estimate being able to break ground on our first site in spring of 2023! To pay for the remaining cost of this three-unit site, we'll leverage a loan secured with our endowment to cover construction costs then fundraise the remaining money, which we're currently estimating to be around $40,000.
The challenges of a construction project during the pandemic, the rising and shifting costs of materials, and supply chain issues have proven difficult. But we're more dedicated and determined than ever to create housing for Black families in Minneapolis.
BLUU's Housing Initiative Supports Black Businesses
Our ongoing lot maintenance for the housing project is done by the Black-woman-owned Pinky Fence, and we're so grateful for their work to keep our lots in good shape. Our tree care is done by the Black-owned Yes! Trees. We are grateful to support Black businesses all across Minnesota with our project. If you happen to know of any Black, LGBTQ, and/or woman-owned general contractors in Minneapolis, please send us an email at [email protected] so we can follow up with them as we are actively soliciting contractors and will be selecting our general contractor in the upcoming month!
You Can Help Us Create Housing for Black Families
We are deeply grateful to be doing this initiative and need your support to keep it going to finish all eight sites! You can make an online donation to the BLUU Housing Initiative here.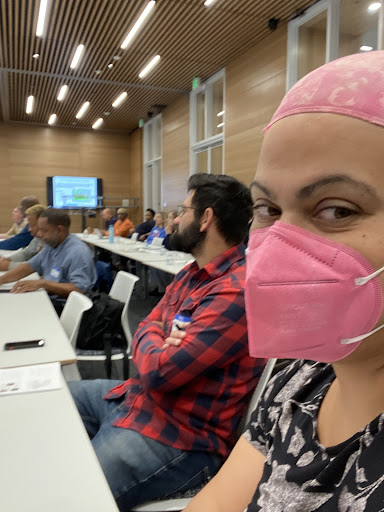 BLUU Executive Director, Lena K. Gardner attended the City of Minneapolis Community Planning and Economic Development training on Friday, Sept. 23 for developers who have been approved for funding through the Minneapolis Homes Program.
Thanks to Our Partners:
Urban Homeworks for being our main organizational partner. With their help, leadership, and significant collaboration, we're recruiting hardworking Black families who have been renting for many years who want to transition into homeownership through our cooperative model.
Local Initiatives Support Corporation (LISC) for your technical assistance and grant award that supported our staff working on the project.
Northcountry Cooperative Foundation for your instrumental guidance and networking support.
The City of Lakes Land Trust for helping us make this housing initiative a reality.