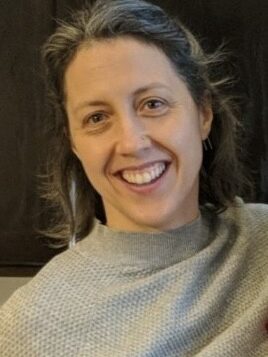 As Black Lives of Unitarian Universalism (BLUU) heads into fall, the team celebrates two amazing people who transitioned out of their roles with BLUU this summer.
Dr. Takiyah Nur Amin transitioned off of BLUU's Organizing Collective Board (OCB) August 1, 2022. Takiyah joined the OCB in 2016.
During her time on the OCB, Takiyah developed a significant portion of BLUU's theological grounding. Takiyah helped plan the Harper-Jordan Symposium, BLUU's 2019 event that highlighted Black religious experiences and Black theologians. Takiyah was also the curator of the BLUU Box, a tool for individuals and small groups who want to deepen their engagement with Black-centered spiritual resources. Earlier this year, Skinner House Books released "BLUU Notes: of Love, Justice and Liberation", an anthology Takiyah co-edited with Rev. Mykal Slack, BLUU's Community Minister for Worship and Spiritual Care.
"One of the greatest joys of my time with BLUU has been working alongside Takiyah Nur Amin," said Rev. Mykal. "From setting up a year of specifically themed community conversations and organizing the culmination of those conversations in 2019's Harper-Jordan Memorial Symposium to co-editing BLUU Notes: An Anthology of Love, Justice & Liberation, we were all in for helping to build a Black Unitarian Universalism that we could all call home. And there are BLUU Havens all over the country because of the heart and mind meld that kept us going, even through the pandemic. I'm deeply grateful to call Takiyah a colleague and friend, and I can't be happier for her right now!"
Takiyah was also recently named the director for diversity, equity, and inclusion at Virginia Tech's College of Architecture, Arts, and Design.
Although she is leaving the OCB, Takiyah will continue working on BLUU writing projects with Rev. Mykal.
BLUU also said goodbye to Hilary Otey in August. Hilary was BLUU's Development and Administrative Coordinator. Hilary moved on to an exciting Fellowship opportunity where she will help better resource the LGBTQ community in the Twin Cities.
"We knew this was a possibility when she came aboard and we're so thrilled her brilliance, diligence and work is being recognized and honored," said Lena K. Gardner, BLUU's Executive Director. "We'll be forever grateful to the hard work and help she has given to BLUU! Thank you Hilary and much success to you in your next adventure."