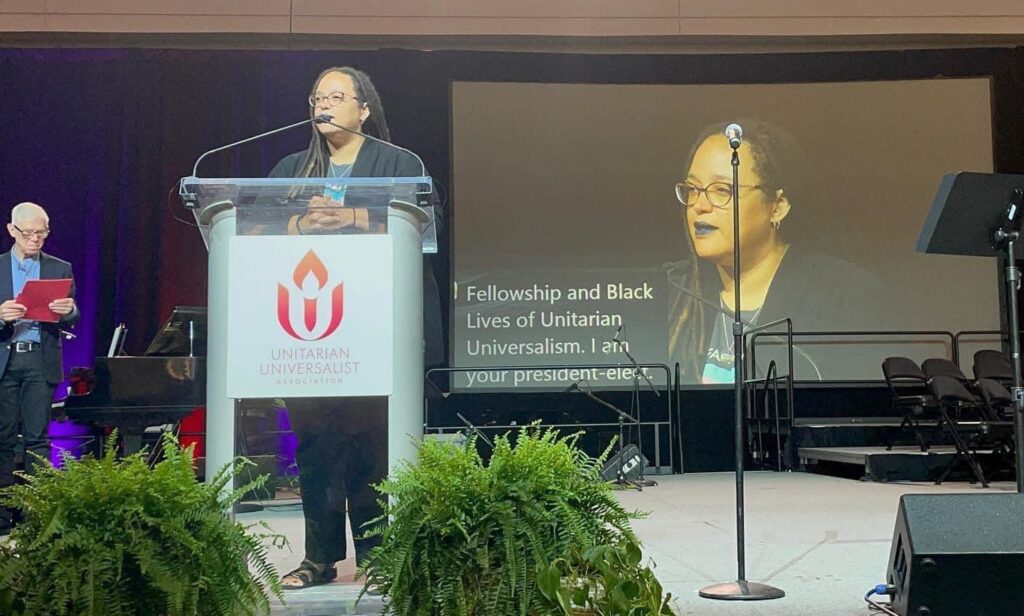 Black Lives of Unitarian Universalism (BLUU) joyously celebrates the historic election of Rev. Dr. Sofía Betancourt as the president of the Unitarian Universalist Association (UUA). Rev. Dr. Betancourt is a leader who truly embodies her beliefs and values—through her commitment to bold leadership, dedicated spiritual practice, and steady leadership in our Unitarian Universalist tradition.
"I know of no other leader in Unitarian Universalism or elsewhere who can hold the complexities of our world, our relationships, and the world we want to build with as much skill, care, love, and simultaneous fervent intellectualism as Rev. Dr. Sofía Betancourt," said BLUU Executive Director Lena K. Gardner. This is a gift of cosmic proportions to have the UUA come under her wildly capable hands. I have been and will continue to be inspired by her leadership, her love, and her commitment to a Unitarian Universalism that is not only inclusive but truly welcoming, not only intellectually rigorous but also warm-hearted and rooted in the deepest, boldest love."
In 2017, Rev. Dr. Betancourt served as one of three interim co-presidents of the UUA, making her the first woman and Black woman president of the Association. Her recent installation as the UUA president brings with it many firsts. We celebrate the many lineages and histories Rev. Dr. Betancourt proudly names as part of her journey. As an AfroLatine, queer woman raised by immigrants, she knows how to hold many intersections with deep care. At the UUA's annual conference, Rev. Dr. Bentancourt's campaign offered custom buttons for people supporting her candidacy. The range of button options—from "Black UUs" or "Disabled UUs" to "Fat and Fab UUs" and "Youth for Sofía"—it's clear Rev. Dr. Betancourt will be a president who holds the concerns of all Unitarian Universalists, but especially those who often feel at the margins of our faith.
"I am thrilled to see my heritage and life experience reflected in UU leadership," said BLUU Developmental Board Chair Natasha Walker." While we continue to work to create UU spaces where everyone belongs, this vote is recognition and affirmation of Sofia's credentials, experience, and spirit. Our shared faith can only benefit from her guidance and example."
In a time of climate crisis and continued pursuits of racial justice, we are inspired by Rev. Dr. Betancourt's work, study, and commitment to Ecowomanism. We know her voice will be a prophetic, grounding presence in these times. Rev. Dr. Betancourt's heart for ritual, spiritual practice, and theological rigor are gifts to Unitarian Universalism, and we are all in to support her presidency.
To learn more about Rev. Dr. Betancourt, visit her website at www.sofiabetancourt.com.
About BLUU:
Black Lives of Unitarian Universalism is committed to expanding the power and capacity of Black UUs within Unitarian Universalism; providing support, information, and resources for Black Unitarian Universalists; and justice-making and liberation for Black people through our faith. Subscribe to our email list to learn more about our worship events, organizing opportunities, and youth ministry.